The latter group consists mainly of innovative startups in the field of deep technology, which deals with some of the biggest social problems.
CTech 11:5311/03/21
Intel Ignite, Intel's startup growth program, announced on Wednesday the top 10 startups selected for its fifth startup group, which will launch on November 7th.

Out of 220 applicants, 14 came to the screening day, and 10 made the final cut and will participate in the 12-week program. This batch is very much focused on deep technological innovation that affects both the industries and the day to day life. Each of the startups will be matched with an experienced mentor, and will receive a customized program tailored to their specific business needs. The program includes expert meetings on market entry and sales, how to deal with building and growing a business, improving the founders' relationship and mental health, and more.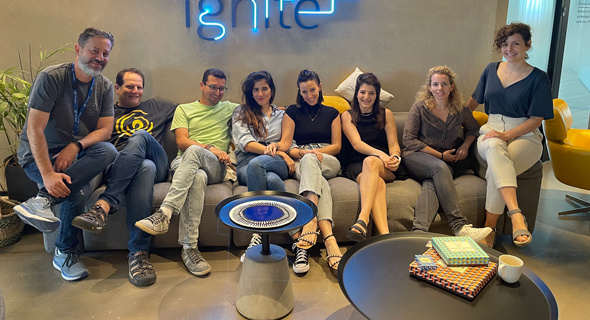 Intel Ignite. Photo: Dana Caesar
The selected start-ups come from various technology industries, including FinOps, DevOps, Edge AI, Health and Digital Security, and to date, have raised an average of $ 5 million each.
CADY solutions Uses AI technology to perform automatic testing and validation of electrical drawings.
ClairLabs A revolutionary generator in remote patient monitoring with the innovative technology of non-contact oximetry pulse.
DeepAIThe groundbreaking technology enables in-depth learning of some of the cost and power of GPU systems for fast, secure and end-to-end AI.
Echo3D Is a cloud platform for applications, games and 3D / AR / VR content.
Book of Exodus Performs non-invasive underground mapping.
Finout Is the first self-service cloud viewing platform that combines business metrics with cost, cutting it by customers, features and unit metrics for healthier business decisions.
Helios Is a ready-to-manufacture platform for original cloud and distributed applications.
HyperSpaceThe high-performance ML algorithms reinforce real-time forecasts.
IllumexThe company's active data catalog helps companies use their data assets smarter and faster.
Taurus eye Performs security checks on native cloud applications.
"We are excited to welcome an outstanding group of entrepreneurs and startups to our fifth group," said Rani Nachmias, CEO of Intel Ignite. "This group has a strong focus on deep technologies. In addition, the program will also include an exclusive CTO track that we present for the first time. The track will focus on specific CTO pain points and challenges, and how to overcome them. We look forward to seeing how this group of startups grows throughout the program, as well as to discovering new ideas and strengthening the business ties that will develop between the founders. "
"Intel Ignite is a very strenuous program for startups, and I'm very excited to have the opportunity to take part," said Ina Tokarev Sela, founder of Illumex. "I talked to some fresh graduates of the program, and what really stood out to me was that everyone felt there was never a wasted moment, and that's so important since time is our most precious asset."